06/05/17 09:37
In Highlands, it seems like it is always something - something to do, that is!

This weekend the Highlands Motoring Festival comes to Town for 4 big days of cars, food, touring and fun.
From Monte Carlo Night on Thursday to Cars and Coffee on Main Street, Sunday morning, Highlands Motoring Festival brings some of the most coveted, collectable and viewable cars to in the Southeast to Highlands.
Don't miss a single event this weekend: June 8 - 11, 2017
06/02/17 16:23
Mountain Laurel (Kalmia latifolia) is one of the most common evergreen shrubs in the mountains of North Carolina.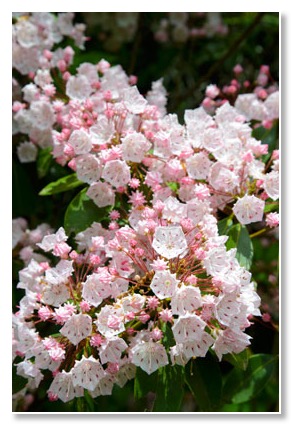 This years bloom is far more spectacular than we have seen in decades. One visitor commented today that it is "more beautiful than Calloway Gardens when the azaleas are in bloom."
Mountain Laurel is often confused with its larger leafed cousin Rhododendron - of which Rhododendron maxima is our most prolific species locally. It usually blooms in late June and early July.
If you have the chance to come to the mountains in the next week or so, we promise one of the most breath-taking displays of Mountain Laurel in many years.
Of course, you can alway come back for the native Rhododendron too…
02/22/17 22:34
"Adult Swim"
Thanks the generosity of Art and Angela Williams, Highlands has one of the most exciting, fun and fitness complexes in Western North Carolina.
Mr. & Mrs. Williams donated the money to pay for the upgrades to the existing pool facility, making it a facility to truly be proud of.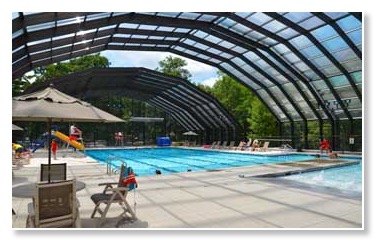 Highlanders and visitors alike now have a year around venue in which to exercise and enjoy themselves - even when the snow is flying!
It doesn't matter whether you are coming for the weekend or here for the rest of your life, make sure you dip your toes in our new "swimmin' hole."