02/22/17 22:34 Filed in:
Kids
| What's To Do?
"Adult Swim"
Thanks the generosity of Art and Angela Williams, Highlands has one of the most exciting, fun and fitness complexes in Western North Carolina.
Mr. & Mrs. Williams donated the money to pay for the upgrades to the existing pool facility, making it a facility to truly be proud of.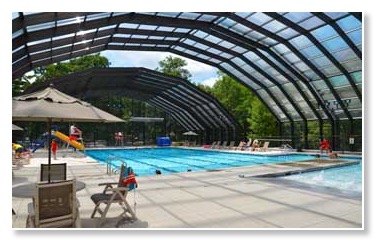 Highlanders and visitors alike now have a year around venue in which to exercise and enjoy themselves - even when the snow is flying!
It doesn't matter whether you are coming for the weekend or here for the rest of your life, make sure you dip your toes in our new "swimmin' hole."
02/17/17 13:27 Filed in:
Scenics
| Day Trippin'
They start inside the city limits - waterfalls, that is.

Highlands is blessed with having numerous scenic and accessible "water features" that are beautiful throughout the year.
One of the most picturesque draws to anyone coming to Highlands are its waterfalls.


Numerous falls are easily accessible/viewable from Hwy. 64 West between Highlands and Franklin. With one (Bridal Veil Falls) accessed by driving underneath!
As you drive towards Franklin you will pass the spillway of Lake Sequoyah (above) and then about 1/4 mile further pass under and behind Bridal Veil Falls. After Bridal Veil comes the newly renovated parking and viewing area for Dry Falls. The US Forest Service has finally revamped the access and built a new elevated viewing platform at Dry Falls. Of course, you can still walk down the slippery steps and experience the spray from behind the falls.
As you travel further you will need to park along the road and "explore" some of the other falls which can't be seem from the road but are only a few steps away. The next falls which are seen from the road are Quarry Falls - locally known as Bust-Your-Butt - where the kids love to jump into a pool at the bottom... must be a rite of passage for youthful testosterone! The last and largest falls on the Cullasaja River is Cullasaja Falls. Located in "the gorge", parking is very limited along the road and a not the best spot for cars, but worth the risk.
We can not express firmly enough how dangerous these and all waterfalls are to the daring and unwary visitor. Numerous people are injured or die every year by slipping from waterfalls or being pinned by water pressure.
Have fun but don't be a statistic!
02/17/17 13:22 Filed in:
Real Estate
| Finance
The other day I ran across a comment made by
Eric O. Nelson, III Senior Mortgage Planner with Silicon Valley Capital Funding
.
This has to be one of the most straight forward, broad thinking and honest comments about the current state of interest rates, the U.S. economy and inflation I have seen.
With Eric's permission we are able to share his thoughts:

❖ ❖ ❖ ❖ ❖


When interest rates increase, it is usually intended to keep inflation (higher costs of anything you buy) from going up. However, inflation has been hovering around 1%, so the target had been 2% - and there is no reason for the increase from an inflation perspective.

The bigger issue of this was government debt, which at the rate of $85 billion of bond purchases monthly we were purchasing $1 trillion annually on this program. The mere thought of slowing down or eliminating this program (called Quantitative Easing) has sent the international markets plummeting for the past 6 weeks, and that is a much deeper concern.

If the cost of money goes up, then the cost of purchasing a home goes up. With so many markets seeing market value increases and multiple offers, it just got much tougher for buyers to afford their purchase. This is a major issue for first time homebuyers, who do not have the advantage of experience to know that these are still good rates.

Was the government premature in the tapering off of bond purchases? Certainly. Rate increases of this magnitude over such a short time will have long term effects, and in the next 60-90 days you will see a reduction or ripple effect from buyers.

IF the global economy continues to react negatively to this massive jump, then companies reduce their spending and hiring, and you could see a strong shift once again in higher unemployment globally.

The best move right now is for your fence sitting buyers to move quickly to avoid getting priced out of homes that they can no longer afford.